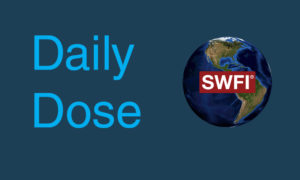 DAILY DOSE: March 31, 2021
Posted on 03/31/2021
---
1. S&P 500 HITS RECORD HIGH. The S&P 500 climbed 0.9%.
2. U.S. President Joe Biden revealed a US$ 2 trillion infrastructure package, which includes tax hikes. US$ 621 billion is allocated to transportation infrastructure such as bridges, roads, public transit, ports, airports, and electric vehicle development.
3. U.S. space agency NASA upset China by referring to Taiwan as a country with the reference on its website.
4. Deutsche Bank's quick US$ 4 billion share sale helped dodge loss from Archegos Capital.
COVID
5. Finnish Prime Minister drops COVID lockdown proposal after it was deemed unconstitutional. White House Advisor Slavitt calls on U.S. governors to reinstate mask mandates.
There were more than 3.3 million deaths reported in the U.S. last year, a 16% increase over 2019. CDC reports the coronavirus was the third leading cause of death in the U.S. in 2020, behind heart disease and cancer. Heart disease killed 690,882 people and cancer killed 598,932. The highest annual death rates were reported among men and people ages 85 and older.
6. NY Governor Andrew Cuomo on signed legislation passed by state lawmakers the night before to legalize recreational marijuana in New York state.