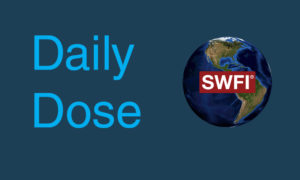 DAILY DOSE: April 5, 2021
Posted on 04/05/2021
---
1. In a recent draft rule by the People's Bank of China and the China Banking and Insurance Regulatory Commission, banks that are considered to be "too big to fail" will be placed into five categories and face a surcharge of around 0.25% to 1.5% on top of the mandatory capital adequacy ratios. Furthermore, these lenders would be mandated to make plans on how to recover from a financial crisis. The lenders must also write up "living wills" in case they cannot operate as an ongoing bank.
2. New York State Lawmakers are nearing a budget deal to increase corporate and income taxes by more than US$ 4 billion.
3. A massive stash of personal data for more than 500 million Facebook users has been published on hacking forums. The data includes full names of users, Facebook IDs, locations, dates of birth, biographies, phone numbers, and email addresses. Over 533 million users are listed in the data, covering 106 countries. Encompassing approximately 20% of Facebook's subscribers, the data was allegedly obtained by exploiting a vulnerability Facebook advises they rectified in August 2019.
4. The COVID B.1.1.7 variant is seen to have spread quickly among children, according to the CDC. A virus with one or more mutations is referred to as a variant. The B.1.1.7 variant was detected in the U.K. in the fall of 2020. The U.K. could maintain ban on non-essential foreign travel beyond May 17, 2021. Vaccine passports in the U.K. could be mandated to enter shops or pubs in the country.
5. Korea's LG plans to exit the mobile phone business globally.
6. On April 1, 2021, Leeward Renewable Energy, LLC, a renewable energy company and portfolio company of OMERS Infrastructure, announced it has closed the previously announced acquisition of a utility-scale solar project platform of approximately 10-gigawatts AC from First Solar, Inc. (NASDAQ: FSLR), effective as of March 31, 2021. The project development platform includes 773 megawatts AC of projects that are expected to commence construction in the next two years, as well as the 30-MW AC Barilla Solar Project, which is operational.
7. Yahoo Answers will close on May 4, 2021.
8. Google plans to cease using Oracle's finance software in favor of SAP.
9. Russian President Putin signed law permitting president to run for two more terms.
10. Palantir is awarded a 5-year contract worth US$ 89.9 million for the SAFER Project. The firm was selected by the U.S. National Nuclear Security Admin.