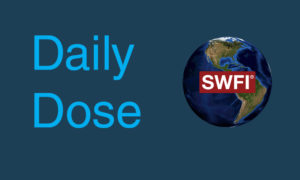 DAILY DOSE: April 19, 2021
Posted on 04/19/2021
---
1. Russia has amassed more than 150,000 troops along its western border with Ukraine. Ukraine is not a member of NATO, while Turkey is. U.S. President Biden is ramping up escalation with Russia. The FAA advises against flying over some areas of Russia and the Ukraine over safety of flight risks. Russian jet intercepted patrol aircraft from the U.S. and Norway over the Barents Sea.
2. Social media giant Facebook is working on a clubhouse app clone, according to Mark Zuckerberg. These type of feature could be used within groups on Facebook.
3. In Harris county Texas, an electric car built by Tesla Inc. (2019 Model S) crashed late Saturday, erupting into flames and killing the two passengers. The Model S ran into a tree north of Houston after traveling at high speed and failing to navigate a turn. Local authorities believe "no one" appeared to be driving the vehicle.
4. China Evergrande New Energy Vehicle Group Ltd. hasn't sold a single car under its own brand. China Evergrande New Energy Vehicle Group is part of the larger property developer conglomerate.
5. Bitcoin's value embarked on a deep dip over the weekend, falling by as much as 15% Sunday. There was an outage in Xinjiang. The selling was done by a Chinese cryptocurrency whale through the Binance exchange in which 9,000 bitcoins were sold.
6. BAFIN filed an insider trading complaint against a board member of Deutsch Bank AG.
7. U.S. Senator Josh Hawley reveals bill to break up large tech companies.
8. Infinity Q, which managed some U.S. pension fund capital, is liquidating the hedge fund as mispricing issues spread.
9. GameStop CEO George Sherman will be stepping down as CEO on July 31, 2021.
10. Bank of England and U.K. Treasury announce digital currency task force.
11. Dogecoin is down 25% in the last 24 hours.
12. John Cameron Mitchell plans to play Joe Exotic in a new media series.