EV Adoption and Retail Investor Exuberance Catalyze Public Fund Investing in the Industry
Posted on 04/19/2021
---
Direct Sovereign Wealth Fund and Public Pension Investment into the Electric Vehicle Industry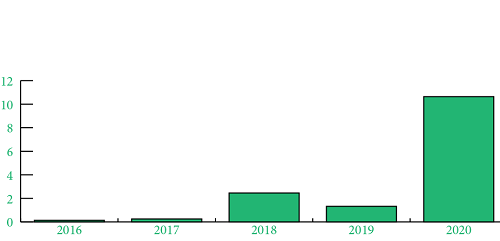 Data is from SWFI.com. Direct equity investments by sovereign wealth funds and public pension funds. SWFI created both the investor group and collection of companies to fit the group requirements. Date: April 2021. Billions in US Dollars.
Some of the company constituents in the group industry vertical include Tesla, Inc., BYD, Xpeng, Nio, and Lucid Motors. Two catalysts can be drawn from the growth of direct investments into EV companies. First is the belief of the inevitability of the massive adoption of EVs, coupled with autonomous driving. Consumer attitudes have evolved with electric-powered vehicles. China's EV market continues to grow at a fast pace, with Europe seeing tremendous growth in 2019. With many European governments pushing for net-zero policies, fossil fuel engines could become more of a novelty than a necessity. For example, the United Kingdom committed to a target of net-zero emissions by 2050, and proposed a ban on the sale of all polluting vehicles by 2035. However, no one can predict what will happen in 2050? With regard to America, the EV market is almost single-handedly being carried by the success of the Tesla models. Major U.S. auto manufacturers are embracing electrification including General Motors and Ford Motor Company.
Second are the QE actions of Western central banks to pump in mounds of cash in a measure to deal with COVID lockdowns, with some stimulus payments being used to invest in equity markets, thus witnessing the wild gyrations in stocks that would fare far worse in a world of tighter capital rules.