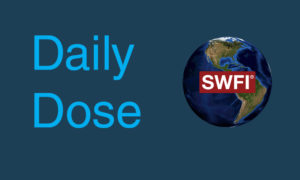 DAILY DOSE: April 23, 2021
Posted on 04/23/2021
---
1. Caitlyn Jenner (formerly known as Bruce Jenner) announces a run for California governor in the recall election of Gavin Newsom. California is set to reveal ban on new fracking permits.
2. Wing Aviation, a unit of Alphabet (Google), asks the FAA to waive some drone rules to expand their operations to other areas.
3. Germany and Hungary agree to join other EU member states in a lawsuit against AstraZeneca over COVID gene therapy vaccine supplies. On another note, the EU closed a deal with Pfizer-BioNTech for up to 1.8 billion doses of the COVID vaccine.
4. Central Bank of the Russian Federation raised key interest rate to 5%.
5. European Union issued a warning that it may try to break up big tech companies. Lina Khan is nearing a seat at the FTC. The Columbia professor wrote a Yale Law Journal article "Amazon's Antitrust Paradox" argued that Amazon's retail business should be separated from its selling platform.
6. D.C. statehood passes in the U.S. House of Representatives.