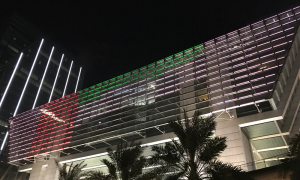 Abu Dhabi Ports Secures $1 Billion Loan
Posted on 04/25/2021
---
Abu Dhabi Ports owns and operates 11 ports and terminals in the United Arab Emirates and Guinea. The ports company is a subsidiary of Abu Dhabi Developmental Holding Company PJSC (ADQ). Abu Dhabi Ports was established in March 2006 as a master developer and regulator of ports and industrial zones.
Abu Dhabi Ports locked in a US$ 1 billion loan form nine banks. The lead banks are Citi and First Abu Dhabi Bank. Other banks involved in the credit facility include Standard Chartered and HSBC.
Last week, TAQA raised US$ 1.5 billion in a bond deal. TAQA is also a unit of ADQ.