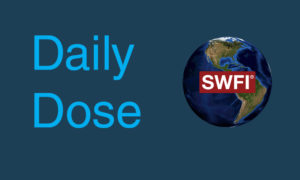 DAILY DOSE: May 3, 2021
Posted on 05/03/2021
---
1. Private equity investor Enervest terminates 111 employees.
2. INXLimited closed its SEC-registered security token offering with US$ 85 million in proceeds from 7,200 investors.
3. Bitcoin Depot launches over 350 new crypto ATMs.
4. Berkshire Hathaway CEO Warren Buffett says board is in agreement if something were to happen to him, Greg Abel would take over as CEO.
5. IMF expects Saudi Arabia's economy to recover faster over the next 2 years.
6. Gray Television is buying Meredith's broadcast stations for US$ 2.7 billion, adding 17 mostly Fox and CBS affiliates to its portfolio.
7. Philip Morris International Inc., the manufacturer of Marlboro cigarettes, is taking a closer look at the cannabis market.
8. India's Prime Minister Modi resists pressure from international media to lock down India during a surge in COVID-19 cases.
9. BLOOD CLOTS. The Danish government will not use Johnson & Johnson's COVID-19 vaccine in its immunization program. Danish health authorities believe the risk of blood clots are unacceptable, according to local media reports.