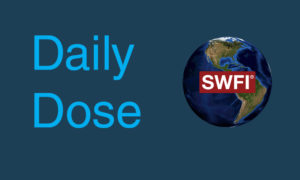 DAILY DOSE: May 12, 2021
Posted on 05/12/2021
---
1. U.S. GASOLINE OUTAGES, 11 AM EST.
Percent of all stations without gasoline
NC 28.2%
GA 17.5%
VA 17.1%
SC 16.2%
FL 4.6%
MD 4.1%
TN 3.6%
WV 2.8%
AL 2.1%
MS 1.7%
North Carolina update
78% of Greenville/Spartanburg/Asheville/Anderson, stations with no gasoline
72% of Raleigh/Durham, stations with no gasoline
71% of Charlotte, stations with no gasoline
69% of Greenville/New Bern/Washington, stations with no gasoline
65% of Norfolk/Portsmouth/Newport, stations with no gasoline
2. U.S. Federal Reserve Vice Chairman Richard Clarida, "We were SURPRISED by higher than expected inflation data." This quote came after the jobs report. New York Federal Reserve report shows total household debt increased by US$ 85 billion to US$ 14.64 trillion in the first quarter of 2021.
3. Block.one is a blockchain software company whose long-time backers include billionaires Peter Thiel, Alan Howard, and Louis Bacon. Block.one is launching a crypto exchange called Bullish. Bullish seeks to merge attributes of traditional bourses with the benefits of decentralized finance (defi). Bullish is being capitalized by Block.one with about $10 billion in digital assets and cash. That seeding for Bullish Global includes 164,000 Bitcoins valued at around $9.7 billion, $100 million in cash and 20 million EOS tokens, which power Block.one transactions.
4. Israel Defense Force says sirens sounding in central Israel.
5. Pfizer Inc. aims to use drones to deliver COVID shots.
6. Colonial Pipeline as no play to pay ransom for now.
7. Alphabet Inc stock has experienced the largest 3-day drop since October 2020.
8. Israel's Security Cabinet approved expanding strikes into Gaza as riots spread to Jewish-Arab cities.
9. White House removes China's Xiaomi from the Pentagon's black list.
10. Hedge fund investor Bill Ackman unveiled a 6% stake in Dominos. Ackman says he will not invest in bitcoin.
11. New York Yankees 3rd base coach tests positive for COVID after being fully vaccinated – WABC.
12. Yesterday, Taiwan stocks saw the largest one day drop in 45 years (some say since March 2020). It was the largest two day drop since 1990. The TAIEX index was hit by COVID-19 concerns and a sell-off of semiconductor stocks. Local semiconductor heavyweights led the rout.