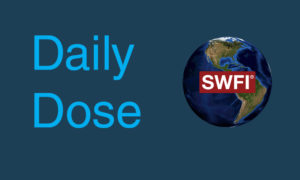 DAILY DOSE: May 14, 2021
Posted on 05/14/2021
---
1. Japan plans to expand its COVID state of emergency ahead of the Olympics.
2. FORMER U.S. MILITARY LEADERS CONCERNED – More than 120 retired U.S. generals and admirals published an open letter questioning the legitimacy of the 2020 presidential election as well as U.S. President Joe Biden's fitness to be commander-in-chief. Biden is the oldest U.S. president and is currently 78-years-old. Some of the signers in include retired Rear Admiral John Poindexter, national security adviser under President Ronald Reagan, and retired Lt. Gen. William G. Boykin.
3. U.S. President Biden tweeted on May 13, 2021 on the official @POTUS twitter account, "The rule is now simple: get vaccinated or wear a mask until you do.
The choice is yours." This tweet occurred after the U.S. Centers for Disease Control and Prevention released new mask-wearing guidance, saying that fully vaccinated Americans can stop wearing masks in most indoor and outdoor locations. State mandates are still in place, as the CDC does not make laws. State governments have the power to lift mask mandates.
New York City offers burgers in exchange for taking COVID shots. Large companies are rushing to assess their mask policies after a sudden announcement by Biden which relaxes some federal rules. Home Depot Inc. and TJX Cos. don't immediately plan to change their policies advising masks.
4. Bank of Mexico kept the overnight rate unchanged at 4%.
5. Former U.S. President Trump plans to resume his rallies in June 2021.
6. T.V. host Ellen DeGeneres says the negative press cycle was "orchestrated" and "misogynistic" in regard to her announcement that she was planning to end her show.
7. The Islamic Republic of Iran's former president Mahmoud Ahmadinejad (aged 64) formally submitted and announced his name as a candidate in the upcoming June 18 presidential elections. Ahmadinejad was Iran's president from 2005 through 2013. Current president Hassan Rouhani cannot run again due to term limits.
8. Cathie Wood's Ark Investment Management LLC now controls US$ 39.7 billion in AUM in her U.S. exchange traded funds. This is down from a peak of US$ 60 billion in February 2021.
9. Israel continued to bombard the Gaza Strip with air strikes and artillery shells. Israeli troops are massing at the border, but no ground offensive is taking place. The Israeli Defense Force said hundreds of rockets have been fired from Gaza towards various locations in Israel.
As for Friday morning, the latest death toll has risen to 113, including at least 31 children.