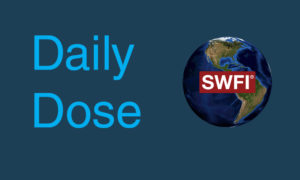 DAILY DOSE: May 27, 2021
Posted on 05/27/2021
---
1. Carl Icahn says he may get into cryptocurrencies in a "big way", media reports.
2. AMC Entertainment Holdings, Inc (AMC) is trading at US$ 27.58 per share at 2:10 PM EDT.
3. Puerto Rico's financial oversight board hopes to get the commonwealth out of its record bankruptcy by the end of 2021. U.S. Congress created the oversight board in 2016. Puerto Rico has been in Title III bankruptcy for four years.
4. Nintendo Co. plans to begin assembly of its new Switch as soon as July 2021
5. Chinese customs authorities are restricting imports into free trade zones. China is trying to restrict some U.S. corn imports.
6. Social media platform Facebook ends ban on posts asserting that COVID-19 was man-made. Since the election of Trump in 2016, Facebook has engaged in increased political censorship, thus impacting its credibility as a neutral internet platform.