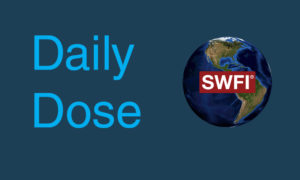 DAILY DOSE: May 30, 2021
Posted on 05/30/2021
---
1. U.K. British Prime Minister Boris Johnson (age 56) married his fiancee Carrie Symonds (age 33) in a secret ceremony in Westminster Cathedral on Saturday. "The Prime Minister and Ms. Symonds were married yesterday afternoon in a small ceremony," he said. "The couple will celebrate their wedding with family and friends next summer." In April 2020, Johnson announced the birth of his son with Symonds. They were the first unmarried couple officially to live together in Downing Street. Johnson has been married twice before. He is the first prime minister to wed in office in 199 years, according to the Sunday Times. Carrie Symonds was the Conservative Party's head of communications in 2018.
2. MAKE THE PRIVACY SETTINGS HARD TO FIND (GOOGLE) – In May 2020, Arizona Attorney General Mark Brnovich filed a lawsuit against Google (parent company Alphabet) that alleges the search engine giant illegally tracked Android users' location without their consent. This is even if users had disabled location tracking features. Discovered in documents in Arizona's lawsuit against Google shows that some corporate executives and engineers knew Google made it hard for smartphone users to keep location information private. The documents show that Google collected location data even after users had turned off location sharing, and made privacy settings difficult for users to find.
3. CRACKDOWN OF CHINESE BIG TECH IN CHINA – Tencent Holdings Limited was told by regulators to move its finance-related business into a new financial holding company where they can be better supervised.
4. Airlines are looking at weighing people at the gate amid fears that some aircraft are being overloaded by fat passengers.