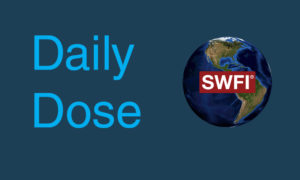 DAILY DOSE: June 4, 2021
Posted on 06/04/2021
---
1. 123 companies in the S&P 500 index have an effective tax rate less than 15%. The top 5 names are Microsoft Corporation, Tesla Inc, Nvidia, Bank of America, and The Walt Disney Company.
2. The Securities and Exchange Commission, led by Chairman Gary Gensler, announced that it has removed William D. Duhnke III from the Public Company Accounting Oversight Board (PCAOB). The Commission designated Duane M. DesParte to serve as Acting Chairperson, effective today. The PCAOB was established by the Sarbanes-Oxley Act of 2002 and oversees the audits of the financial statements of public companies and brokers and dealers through registration, standard setting, inspection, and disciplinary programs. Under the Act, the Commission selects members and the Chairperson of the Board.
3. POPULAR DIABETES DRUG to BE SOLD AS WEIGHT-LOSS DRUG. The U.S. Food and Drug Administration (FDA) approved Wegovy. Wegovy is a higher-dose version of Novo Nordisk's diabetes drug semaglutide, for long-term weight management.
4. Increasingly, countries are blocking social media company Twitter over foreign intefernce on information distribution. "The Federal Government has suspended, indefinitely, the operations of the microblogging and social networking service, Twitter, in Nigeria," Nigeria's Ministry of Information and Culture announced in a statement
Nigeria said it suspended Twitter indefinitely on Friday, two days after the company removed a Tweet by Nigeria President Muhammadu Buhari for violating the site's rules, according to the BBC. A statement by the government on the suspension cited, "the persistent use of the platform for activities that are capable of undermining Nigeria's corporate existence."
5. Facebook says former U.S. President Trump is suspended for over two years. On June 4, 2021, Nick Clegg of Facebook (and former U.K. Deputy Prime Minister) tweeted, "In response to the @OversightBoard's ruling, Facebook is suspending Donald Trump's accounts for 2 years, effective from the date of the initial suspension in January this year. At that time, we will assess the public safety risk and extend the restrictions if conditions require." The former U.S. president is also banned on Twitter. On a separate note, the European Union and U.K. governments are opening antitrust probes into Facebook. These governments are seeing if Facebook used advertiser data to favor its own services.
6. Jan Goodwin is the former Executive Director of the $14.5 billion New Mexico Educational Retirement Board. Goodwin has filed a lawsuit on May 27, 2021, against the board and its individual trustees, the New Mexico State Department of Finance and Administration, New Mexico Governor Michelle Lujan Grisham and others, alleging unfair pay due to gender, age, and race discrimination. The lawsuit was filed in the U.S. District Court in Santa Fe. Goodwin became executive director in March 2008.