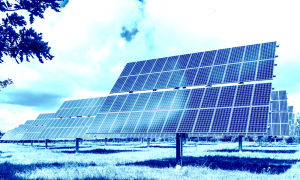 Hull Street Energy Seeks to Build a Diversified Portfolio of Low Carbon Energy Assets
Posted on 06/21/2021
---
In April 2021, Bethesda, Maryland-based Hull Street Energy, LLC acquired 100% of the ownership interests in the Waterbury Generation facility from a subsidiary of ENGIE North America. The facility is in Waterbury, Connecticut and provides 96 megawatts of flexible, fast start natural gas power generation capacity to the New England region.
Hull Street Energy affiliates now own 53 power generation stations providing over 1,000 MW of renewable, gas-fired, and dual-fueled generation capacity to support grid operations throughout the United States. Hull Street Energy is a private equity firm that specializes in deploying capital into the power sector. Sarah Wright founded the firm in 2014 to deploy capital into the North American power sector as it transitions to a more sustainable footprint. Before founding the company, Sarah Wright she was a co-founding Partner at Energy Capital Partners, where she helped to establish and served as a Director of FirstLight Power Holdings. Wright joined Goldman Sachs in 1998 and helped to launch Goldman Sachs Power, the firm's initial entry into electricity commodity markets, including the successful development of Constellation Power Source, a joint venture with Constellation Energy Group.
Advisors
Troutman Pepper LLP acted as legal counsel to Hull Street Energy.
On May 24, 2021, Hull Street Energy entered into a definitive agreement to acquire the management team and development pipeline of Foundation Solar Partners, an independent renewable development company that specializes in identifying and developing utility-scale solar generation projects in select markets in the eastern United States. Foundation Solar Partners was formed in 2019 by former employees of Cypress Creek Renewables. Foundation Solar Partners is an independent solar resource development company headquartered in Washington, DC. In this deal, Baker Botts LLP acted as legal counsel to Hull Street Energy and The Law Office of Jon Staley acted as legal counsel to Foundation Solar Partners.
Thirty Hydroelectric Plants From EGPNA Renewable Energy Partners
In January 2020, Hull Street Energy acquired thirty-one hydroelectric facilities with 255 MW of capacity from EGPNA Renewable Energy Partners (EGPNA REP), a joint venture between Enel Green Power North America and GE Energy Financial Services. The transaction closed in two phases. The first phase includes thirty hydro projects totaling 175 MW. The second phase closed with the remaining 80 MW of capacity. The plants supply reliable, low-carbon energy to regional electricity customers in Vermont, Washington, Massachusetts, New York, Virginia, South Carolina, Idaho, California, North Carolina, West Virginia and Pennsylvania. BNP Paribas Securities Corp. served as sole placement agent and ancillary facility provider on a private placement financing for the transaction, and Baker Botts LLP acted as legal counsel to Hull Street Energy.
In August 2018, Hull Street Energy closed on a deal for nine hydroelectric power facilities in New Hampshire from Eversource through a special purpose affiliate. The transaction consists of nine facilities with approximately 68 MW of power generation capacity. The plants are located on the Androscoggin, Connecticut, Merrimack, North Branch, and Pemigewasset Rivers.