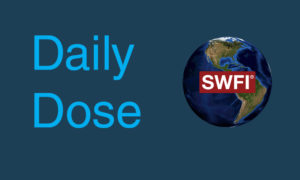 DAILY DOSE: June 27, 2021
Posted on 06/27/2021
---
1. The U.S. Food and Drug Administration (FDA) added a warning about the risk of heart inflammation to fact sheets for Moderna and Pfizer-BioNTech COVID-19 vaccines. The warning is highlighted particularly after the second dose.
2. The last U.S. administration under Trump wanted to have TikTok out of Chinese hands and into U.S. hands. That effort failed as a new U.S. president reversed a large number of his predecessor's policies. Former TikTok employees are coming out saying that ByteDance has data access to Tiktok's U.S. user database and is heavily involved with the company's decision-making and product development in Los Angeles.
3. Pfizer Inc recalls some Chantix lots after discovering a carcinogen. The company suspended global distribution of its smoking-cessation pill Chantix. There were heightened levels of the carcinogen N-nitrosodimethylamine (NDMA) were found in some lots of the pills. The FDA approved Varenacline, which is marketed as Chantix, in 2006. Cigarette smoking can cause cancer almost anywhere in the body. NDMA is also a well-studied carcinogen in rodents, causing tumors in the liver and other organs.
N-Nitrosodimethylamine is found in the environment as a byproduct of industrial processes and water disinfection.
4. El Salvador President Bukele says Bitcoin will become legal tender on September 7, 2021.
5. United Airlines Holdings Inc. is ready to purchase more than 200 Airbus SE and Boeing Co. jetliners, one of the largest purchases in its history.
6. According to Poynter, the United States ranks last in media trust — at 29% — among 92,000 news consumers surveyed in 46 countries.