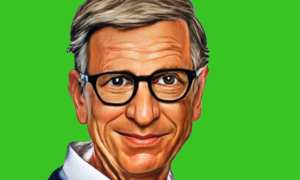 American Mega Billionaires Bezos, Bloomberg, and Gates to Back Drilling in Pristine Greenland for EV Materials
Posted on 08/10/2021
---
Bluejay Mining PLC is an AIM and FSE listed traded, exploration and development company with projects in Greenland and Finland. Bluejay signed a joint venture agreement with KoBold Metals, at the company's Disko-Nuussuaq nickel, copper, cobalt, platinum magmatic massive sulphide project in Central West Greenland. Disko is a project with great potential for the discovery of globally significant deposits of battery metals. The Disko Project is hosted within the West Greenland Tertiary Igneous Province where Bluejay holds several licences that make up its holding of 2,897 square kilometers. Exploration drilling produces large amounts of waste and atmospheric emissions.
Founded in 2018, Berkeley, California-based KoBold Metals seeks to find new sources of critical materials for electric vehicles. At the moment more than 60% of the world's cobalt is mined in the Democratic Republic of Congo. Cobalt has been known as the blood diamond of the EV industry. As electric vehicles become widespread, many new mines will be needed, and discovery of new deposits is essential for rapid EV adoption. The incumbent cobalt supply is also challenged with severe labor and ethical issues. Key investors in KoBold Metals include Breakthrough Energy Ventures, a climate & technology fund, overseen by Bill Gates, and whose investors include billionaires Michael Bloomberg, Jeff Bezos (Amazon.com founder), and Ray Dalio. Other investors in KoBold include venture capital firm Andreessen Horowitz and Equinor (formerly Statoil), the Norwegian state-owned multinational energy company. Equinor has one of the biggest exploration budgets in the energy industry. KoBold's proprietary software is called ​Machine Prospector.
Amazon.com, Inc. plans to electrify its fleet of vans and vehicles.
Part of the joint venture entails KoBold Metals to earn 51% of the Disko-Nuussuaq licence holding through a two stage earn-in commitment. Stage 1 is the geological and geophysical evaluation of Disko-Nuussuaq to refine drill-targets using KoBold's proprietary technology, $3.4 million sole-funded by 31 December 2022. Stage 2 is the sole funding of either US$ 11.6 million in drilling expenditure or 15 pre-agreed drill holes within the Disko licence area by 31 December 2024. Bluejay can maintain its 49% shareholding by funding its pro-rata commitment after Stage II. Bluejay will manage field operations until 2024.
Other Bluejay Projects
Bluejay holds two additional projects in Greenland – the 692sq km Kangerluarsuk zinc-lead- silver project, where historical work has recovered grades of 41% zinc, 9.3% lead and 596 g/t silver and identified four large-scale drill ready targets; and the 2,025 sq km Thunderstone project which has the potential to host large-scale base metal and gold deposits.