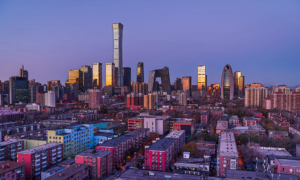 AIIB Becomes Implementation Partner for Multilateral Cooperation Center for Development Finance
Posted on 08/28/2021
---
The Asian Infrastructure Investment Bank (AIIB) has become the first implementing partner of the Multilateral Cooperation Center for Development Finance (MCDF). The partnership seeks to leverage resources to support the preparation of high-quality connectivity infrastructure projects to facilitate resilient and inclusive economic growth.
This is AIIB's second accreditation with a multilateral partnership facility after securing its first accreditation with the Global Infrastructure Facility in June 2021. The partnership enables AIIB to expand its resources to serve a broader range of members and further its role in financing Infrastructure for Tomorrow (i4t)—green infrastructure with sustainability, innovation and connectivity at its core. It is also in line with AIIB's thematic priority of Connectivity and Regional Cooperation and principle of high governance standards as set out in the Bank's Corporate Strategy.
AIIB has been serving as the Administrator of the MCDF since June 2020. "MCDF was set up to spread the reach of high standards in connectivity projects and promote cooperation and knowledge sharing among MDBs. As host of the MCDF, we will strive to support these goals and ensure the MCDF is administered according to the highest level of multilateral governance standards, in line with the commitment made by our Board of Directors," said Sir Danny Alexander, AIIB Vice President for Policy and Strategy.
As an implementing partner, AIIB will have access to MCDF resources to support its members in preparing high-quality connectivity infrastructure projects, benefiting from the platform that drives synergies and enhances learning and knowledge sharing.
The Multilateral Cooperation Center for Development Finance is a multilateral initiative to increase high-quality infrastructure and connectivity investments in developing countries in compliance with International Financial Institution standards, including by encouraging other investors and financial institutions to adopt such standards.