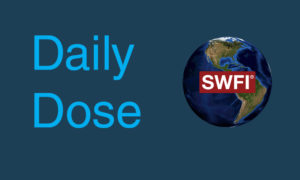 DAILY DOSE: September 15, 2021
Posted on 09/15/2021
---
1. The North Korean government fired off two ballistic missiles, South Korea's military said on Wednesday. North Korea is restarting its nuclear ambitions. Outgoing Japanese Prime Minister Yoshihide Suga called the ballistic missile launch "outrageous".
2. Bridgewater Associates founder Ray Dalio told Andrew Ross Sorkin Wednesday on CNBC's "Squawk Box" with regard to Bitcoin, "I think at the end of the day if it's really successful, they will kill it and they will try to kill it. And I think they will kill it because they have ways of killing it."
3. El Salvador will exempt foreign investors from paying taxes on bitcoin profit and income. Bitcoin is legal tender in the country.
4. INCREASING FINANCIAL SURVEILLANCE – $600 BUCKS. The Biden administration, U.S. Treasury Secretary Janet Yellen, and IRS Commissioner Charles Rettig are trying to convince lawmakers to give the IRS more information about U.S. taxpayers' bank accounts. Yellen believe the increase reporting and surveillance powers will crack down on tax evasion. The Biden administration wants to have Congress pass a law to require banks to report annual inflows and outflows from bank accounts with at least US$ 600 or at least US$ 600 worth of transactions. The IRS believes this would help generate roughly US$ 460 billion over a decade. Some community banks, credit unions, and Republican congressman have rebuked the proposal.
5. WARGAMES? The Taiwan government says nine Chinese military aircraft entered ADIZ (Air defense identification zone) on September 15, 2021. The People's Republic of China (PRC) claims that the Republic of China government (Taiwan) is illegitimate, referring to it as the "Taiwan Authority".
6. ELECTION HACKING. The server of the German election commissioner suffered a hacking attack that took its website down for a few minutes.
7. LIKE A MACHINE – Microsoft Corporation announced US$ 60 billion share buyback.