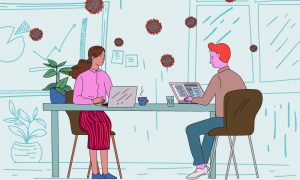 Pfizer and Moderna Acknowledge COVID-19 Vaccine Protection Wanes, Push for Boosters
Posted on 09/15/2021
---
As the U.S. government and its health officials tout the benefits of the initial 2-dose COVID shots of Pfizer Inc. and Moderna Inc., the vaccines protection against the virus and variants wanes over time. Thus the notion of COVID booster shots is becoming a debate internally among the FDA and mRNA industry. Moderna released findings saying that its early vaccine recipients are nearly twice as likely to get COVID compared to those who got the shot recently. Moderna says the data provides evidence for giving booster doses to fully vaccinated people.
"The increased risk of breakthrough infections in…study participants who were vaccinated last year compared to more recently illustrates the impact of waning immunity and supports the need for a booster to maintain high levels of protection," said Moderna CEO Stéphane Bancel in a press release.
This new data revelation is being thrown into the mix as the Biden administration is forcing private employers (with employees over 100) to take the jabs or take COVID tests periodically. COVID survivors who have built up natural immunity appear to have longer protection, according to a number of recorded studies in medical journals. Medical researchers have found antibody-producing cells in the bone marrow of people who have recovered from COVID-19.
More Evidence from Case Western
Case Western Reserve University and Brown University ran a partnership study that shows COVID-19 antibodies produced by the Pfizer vaccine decreased sharply in senior nursing home residents and their caregivers six months after receiving their second shots.
Colin McEwen wrote an article called "Case Western Reserve University researchers, in partnership with Brown University, examine vaccine's effectiveness over time on seniors and their caregivers". Part of the article states, "David Canaday, professor at the School of Medicine, and the research team studied blood samples of 120 Ohio nursing home residents and 92 health care workers. In particular, they looked at humoral immunity—also called antibody-mediated immunity—to measure the body's defenses against the coronavirus.
The researchers, including a lab team at Harvard University, found that individuals' antibody levels decreased more than 80% after six months; the results were the same in seniors (median age 76) and caregivers (median age 48) and old alike, according to the study."
Story LINK: https://thedaily.case.edu/new-study-nursing-home-residents-health-care-workers-lose-more-than-80-of-their-covid-19-immunity-six-months-after-pfizer-vaccine/