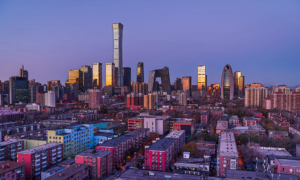 China Evergrande Group Shares Keep Falling over Unsustainable Debts
Posted on 09/20/2021
---
With around US$ 305 billion in debt liabilities, China Evergrande Group started to repay its investors in its wealth management products with real estate, a unit of its main Hengda Real Estate Group Co Ltd unit said. The real estate giant is in the middle of a liquidity crisis and has a bond interest payment of US$ 83.5 million due on Thursday. In a WeChat post dated September 18, 2021, the troubled real estate company informed investors interested in redeeming wealth management products for physical assets should contact their investment consultants or visit local offices. Chinese news site Caixin reported on September 19, 2021 that an estimated 40 billion yuan in Evergrande wealth management products are outstanding. Chinese banks have declined to extend new loans to buyers of uncompleted Evergrande residential projects, while ratings agencies have repeatedly downgraded the real estate firm. China Evergrande Group remains engaged advisers to examine its options. Will this be a Minsky Moment that is similar to the collapse of Lehman Brothers? Economist Hyman Minsky coined the phrase when confidence breaks after a prolonged period of speculation.
On September 20, 2021, Evergrande shares plunged as much as 19% to their lowest in over 11 years.
The spillover effects are impacting on Chinese real estate developers and companies. Last week, Beijing-based Soho China's stock plummeted around 40% after the Blackstone Group US$ 3 billion takeover deal failed.