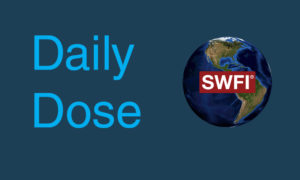 DAILY DOSE: October 25, 2021
Posted on 10/25/2021
---
1. PayPal Holdings Inc. disclosed it is not pursuing an acquisition of Pinterest Inc., ending days of speculation over a potential US$ 45 billion deal.
2. U.K. Health Secretary Sajid Javid is learning towards having mandatory COVID vaccinations for staff at the NHS. This is after he revealed that around 100,000 have not received the COVID shots.
3. REPUBLICAN SENATORS LIKELY CRYPTO ALLIES. On a Sunday night interview on "Axios on HBO", U.S. Senator Rand Paul (Kentucky) said that cryptocurrency could eventually replace the U.S. dollar as "the reserve currency of the world." U.S. Senator Cynthia Lummis (Wyoming), bought bitcoin worth between $50,001 to $100,000 on August 16, 2021 according to a filing.
4. People's Bank of China (PBoC) increases daily liquidity injection to 200 billion yuan.