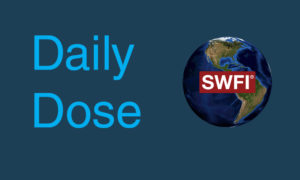 DAILY DOSE: October 27, 2021
Posted on 10/27/2021
---
1. DARK WINTER? The natural gas pricing benchmark, Henry Hub, averaged US$ 4.01 per Mmbtu during the third quarter of 2021, the highest since 2014. Propane prices ended the third quarter at the highest level in over seven years, as the Mont Belvieu weighted price for Range's NGL barrel increased by approximately US$ 7.50 per barrel.
2. The Biden administration supports the Wealthy American unrealized gains tax and says its legal (if passed). U.S. Senator Joe Manchin (West Virginia) said that everyone in the U.S. should pay a patriotic tax. The wealth tax targets around 700 of the wealthiest Americans. However, Manchin dismissed the Billionaire wealth tax and many Democrats on the "socialist/progressive wing" feel that the moderate Democrats are driving the ship on the social spending bill.
3. SoftBank Vision Fund (part of SoftBank Group Corporation) has borrowed against shares in Doordash and Coupang.
4. Third Point LLC has a stake in Royal Dutch Shell plc.
5. FINTECH PROBE. U.S. Department of Justice looks into Visa Inc.'s dealings with Square, PayPal Holdings, and Stripe.
6. 4 COVID SHOTS NOW. The U.S. Centers for Disease Control and Prevention (CDC) said in updated guidelines Tuesday that some immunocompromised people who have received either Pfizer or Moderna's COVID-19 mRNA vaccines will be able to get a fourth shot.
7. In a political move, a Brazilian Senate commission approved a 1,200 paged-report on Tuesday that recommends criminal charges be brought against Brazil President Jair Bolsonaro. The report accuses Bolsonaro of "crimes against humanity" over his handling of the country's COVID-19 pandemic policy. Seven of the panel's 11 senators voted to endorse the text. The committee does not have the power to bring charges itself. The report was signed by opposition Senator Randolfe Rodrigues.
8. CALI EXODUS. Notified by Instagram, celebrity tattoo artist Kat Von D is shutting down her famous West Hollywood shop called High Voltage Tattoo. The tattoo shop was open for 14 years. She is moving to rural Indiana.
9. Hollywood actor Alec Baldwin could be facing charges in the shooting death of cinematographer Halyna Hutchins. Mary Carmack-Altwies, the district attorney in Santa Fe County, New Mexico told the The New York Times that criminal charges were possible.