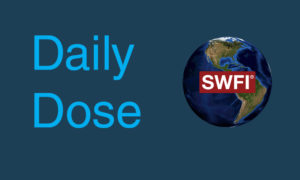 DAILY DOSE: March 4, 2022
Posted on 03/04/2022
---
1. Western governments coordinating with large U.S. corporations are purging Russian people and T.V. shows from media. Countering, Russian cinemas will not be showing many upcoming American films. The Walt Disney Company took a stance to not to release any upcoming films in Russia. Disney+, the streaming service of Disney, dropped the the 1997 animated film "Anastasia" from its service in the U.S. Disney claims this was due to a contract dispute. "Anastasia" is set in Russia and is based on the Russian legend of Grand Duchess Anastasia. Disney halted the release of its upcoming Pixar film "Turning Red" from Russia. Twitter Inc and Facebook services are getting blocked in Russia.
2. Russian President Putin signs law to seize assets if foreigners harm Russians.
3. U.S. crude oil futures settle at US$ 115.68 per barrel, up US$ 8.01 – 7.44%. Royal Dutch Shell plc bought a cargo of Russia's flagship crude at a record discount. Shell bought Urals crude at the record discount of minus US$ 28.50 per barrel to Brent oil. European natural gas benchmark TTF rises above the barrier of €200 per MWh.
4. U.S. United States Secretary of State Blinken says a no-fly zone in Ukraine could lead to a full-fledged war in Europe. Pentagon says that no leaders at Pentagon have spoken to Russian military since Ukraine invasion started.
5. INDEX PROVIDERS REMOVE RUSSIA. S&P to remove all stocks listed or domiciled in Russia. Trading in the iShares MSCI Russia ETF (ERUS) has been halted by NYSE Arca, as of 4 a.m. Eastern time on Friday. MSCI Inc. and FTSE Russell are removing Russian equities from widely-tracked indexes, while the London Stock Exchange suspends dozens of Russian depositary receipts from trading. MSCI said securities will be removed from emerging markets indexes effective March 9, 2022. FTSE Russell will delete Russia constituents list.
6.U.S. SENATOR GRAHAM CALLS FOR THE ASSASSINATION OF RUSSIAN HEAD OF STATE PUTIN. On March 3, 2022, U.S. Senator Lindsey Graham suggested that Russians should assassinate Russian President Vladimir Putin. This has drawn the ire of Republicans and Democrats concerned over the war in Ukraine.
"Is there a Brutus in Russia? Is there a more successful Colonel Stauffenberg in the Russian military?" the South Carolina Republican asked in a tweet.
"The only way this ends is for somebody in Russia to take this guy out. You would be doing your country – and the world – a great service," Graham said.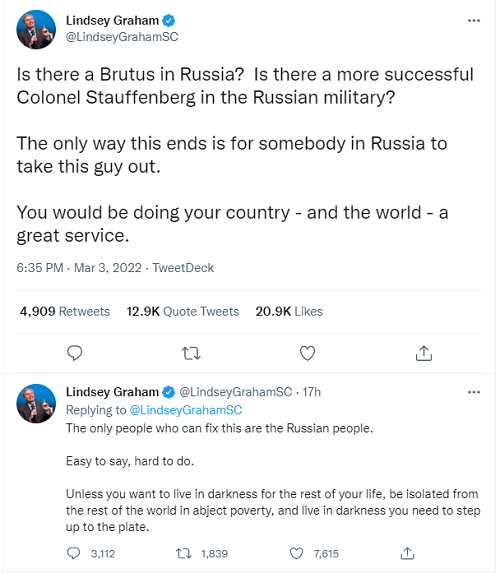 Roman Emperor Julius Caesar was assassinated by Brutus and others in the Rome Senate on the Ides of March. German Lieutenant Colonel Claus von Stauffenberg tried to kill Adolf Hitler in the summer of 1944.
U.S. Representative Ilhan Omar, D-Minnesota, and U.S. Senator Ted Cruz, R-Texas.
"I really wish our members of Congress would cool it and regulate their remarks as the administration works to avoid WWlll. As the world pays attention to how the US and it's leaders are responding, Lindsey's remarks and remarks made by some House members aren't helpful," Rep. Ilhan Omar tweeted.
"This is an exceptionally bad idea," Senator Ted Cruz tweeted in response to Graham's remarks. "Use massive economic sanctions; BOYCOTT Russian oil & gas; and provide military aid so the Ukrainians can defend themselves. But we should not be calling for the assassination of heads of state."
On March 4, 2022, the White House says it was not advocating for regime change in Russia.