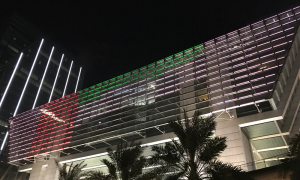 Mubadala and ADQ Sign Partnership Deals with Greek Government Entities
Posted on 05/10/2022
---
In recent years, the United Arab Emirates and Greece created stronger economic and military ties. Abu Dhabi Developmental Holding Company (ADQ) has signed an investment partnership agreement with the Hellenic Development Bank (HDB), the national development bank of Greece, and Hellenic Development Bank of Investments (HDBI), the Sovereign Fund-of-Funds of Greece, to fund investments worth €4 billion across multiple sectors and asset classes of the Greek economy. The three parties will invest individually and jointly, across target sectors including renewable energy, infrastructure, agriculture, technology, healthcare and life sciences, amongst others. In 2021, the value of non-oil foreign trade between the UAE and Greece reached nearly AED 2.1 billion, with a 67% growth compared to 2020, reflecting a significant spike in growth compared to pre-pandemic levels.
Abu Dhabi-based sovereign investor Mubadala Investment Company and Hellenic Development Bank of Investments signed an agreement to extend their €400 million co-investment partnership to include venture capital and private equity investments in top performing Greek funds that are focused on high growth sectors. The Mubadala-HDBI co-investment partnership was first established in 2018 with an initial focus on minority direct PE investments in Greek businesses.
Additionally, Mubadala and HDBI closed their first co-investment under the newly extended agreement to Athens-based VentureFriends Fund III, an early-stage tech investor. VentureFriends focuses on scalable B2C and B2B startups that can develop a sustainable moat over time, with a track record of successful investments in PropTech, Fintech, Marketplaces and SaaS. VentureFriends targets investments in Greece, throughout Europe and selectively around the world, including the UAE, where it has been an early investor in Instashop since 2016 and most recently an early investor in Huspy.