SoftBank's Vision Fund Reports Largest Loss Since Inception
Posted on 05/12/2022
---
Remember the US$ 100 billion Softbank Vision Fund backed by sovereign wealth funds that invested in companies like Katerra, Uber Technologies and WeWork? The Vision Fund was anchored by Saudi Arabia's Public Investment Fund – US$ 45 billion, as well as other SWF investors.
SoftBank Group Corporation reported a 3.5 trillion yen loss (US$ 27.4 billion loss) from its Vision Fund unit, for the fiscal year ending March 31, 2022. This is the largest loss since the Vision Fund started in 2017. SoftBank recorded write-downs in valuations for some of the private companies that it invests in. A global selloff in technology company shares pummeled the value of its portfolio companies. Vision Fund's performance contributed to SoftBank Corporation's record 1.7 trillion yen annual loss. Softbank Vision Fund II was not able to lure the same investor base as I, and so II was nearly capitalized via the parent company's balance sheet.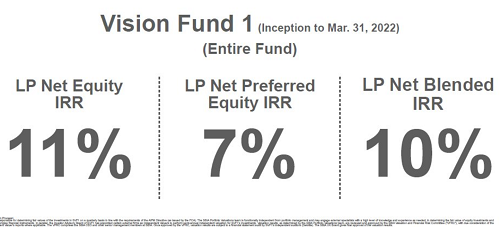 The Softbank Vision Fund is taking a defensive position in a world of tightening and is attempting to monetize its assets and keep cash in the fund. Global investors are dumping shares in "high-growth" technology stocks as the U.S. Federal Reserve raises interest rates.
SoftBank has heavy exposure to China through its investments in e-commerce giant Alibaba and ride-hailing company Didi Global Inc. The Vision Fund is still investing in China, but at a much smaller clip per deal.
SoftBank pitched itself on creating a fund that would invest in AI, which could possibly transform industries. The Vision Fund also used leverage to invest in venture capital startups.

NOTE: Softbank past presentation.
Latin America
In 2019, SoftBank showcased its US$ 5 billion fund focused on Latin America tech startups. The LATAM fund ended up being folded under the Vision Fund.