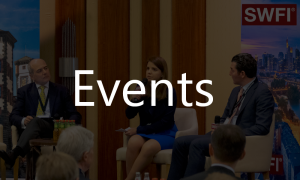 Over $2 Trillion Confirmed for Institute Fund Summit 2022 America
Posted on 06/20/2022
---
Institute Fund Summit 2022 America – 12th ANNUAL EVENT
New York, NY, United States. 4-5, October 2022
Learn more: events (a) swfinstitute.org.
The VIP Summit for Sovereign Wealth Funds, Public Funds, Endowments, Foundations, Allocators, Single Family Offices, and other Long-Term Public Investors
SWFI plans to hold a VIP institutional investor summit – The Institute Fund Summit 2022 America – on October 4-5, 2022 in New York City. We propose an information-driven, marketing-free forum where attendees share insights, engage in forward-looking discussions, and learn relevant, timely market intelligence. This is an exclusive event for institutional investors, government officials, and C-level investment executives who want to interact and build relationships. Discussions and presentations are purely educational. Significant emphasis is placed on peer to peer interactions, with sufficient networking time built into each engagement.
SWFI has confirmed the attendance from organizations, in the aggregate, in which AUM exceeds US$ 2 trillion based off research, data, and signups.