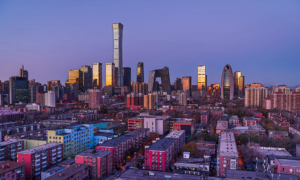 China Invests in Indonesian Sovereign Wealth Fund via Silk Road Fund
Posted on 07/04/2022
---
China's Silk Road Fund signed an agreement to invest up to 20 billion yuan (US$ 2.99 billion) in Indonesia's sovereign wealth fund.
The agreement allows for investment in all sectors open to foreigners in Indonesia, especially projects with economic connectivity between the countries, the Indonesia Investment Authority (INA) and Silk Road Fund said in a joint statement. The Indonesia Investment Authority is a strategic development sovereign wealth fund (SDSWF), with aims of luring co-investors for investments.
"We believe that investment in Indonesia and the region has high potential, especially when conducting it together with INA," said Yanzhi Wang, Silk Road Fund president.
The bonds owned by INA carries Republic of Indonesia's sovereign risk, which are rated BBB by Standard and Poor's (S&P), Baa2 by Moody's, and BBB by Fitch Ratings. The capital of INA comprises of capital injection which can be derived from cash consideration, state property, state receivable from state-owned enterprise (SOE) or incorporated company, and/or state-owned shares in SOE or incorporated company.
Partnership Examples
Together with investor partners, INA has realized an investment in the largest telecommunications tower company in Indonesia, namely PT Dayamitra Telekomunikasi (MTEL/Mitratel) through an IPO mechanism worth US$ 770 million which represents 60% of Mitratel IPO proceed. In the Mitratel IPO, INA acted as an anchor investor playing an active role in bringing in foreign partners, namely GIC Private Limited and Abu Dhabi Investment Authority (ADIA).
In 2021, INA had the opportunity to explore investments in several strategic port locations in Indonesia with DP World as one of the largest and best port operators in the world. INA has signed a Strategic Alliance Agreement (SAA) with DP World, which marks an investment commitment of up to US$ 7.5 billion.
INA has established a US$ 3.75 billion toll road investment platform with a consortium of international investors involving Caisse de dépôt et placement du Québec (CDPQ), APG Asset Management (APG), and ADIA. INA and the consortium have reviewed 35 toll road assets, especially the Trans Sumatra and Trans Java toll roads with the aim to create multiplication effects on economic growth and optimize economic potential in Sumatra and Java.
INA signed an Investment Framework Agreement with the Abu Dhabi Growth Fund (ADG) which was established to support the UAE's US$ 10 billion investments.
Silk Road Fund
The Silk Road Fund was formed at the end of 2014 and is backed by China's foreign exchange reserves, China Investment Corporation, the Export-Import Bank of China, and the China Development Bank (CDB).