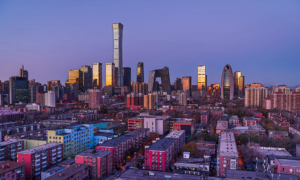 Stormfronts Cloud Chinese Equity Markets as Real Estate and Geopolitics Remain
Posted on 09/26/2022
---
Since Russia's offensive in the Ukraine, banks such as Morgan Stanley, Societe Generale SA, JPMorgan Chase & Co., and UBS Group AG have requested staff to review contingency plans in case China invades Taiwan. The Chinese economy faces fairly large downward pressure for 2022.
In response to a number of developments in China's economy, Chinese state banks have been instructed to purchase listed stocks in China. Chinese stocks closed lower on September 26, 2022, with the benchmark Shanghai Composite Index down 1.2% to 3,051.23 points.
Real Estate
China Evergrande Group is the poster child of the country's economic woes. Nearly a third of all property loans in China are now classed as bad debts at 29.1%. This is up from 24.3% at the end of 2021, according to research by Citigroup. S&P Global Ratings believes that at least 800 billion yuan would be needed or even 10 times that much in the worst-case scenario to rescue the Chinese property market.
China Construction Bank Corporation is planning to create up to a 30 billion yuan fund to buy properties from mainland China developers. This is to shore up a growing real estate crisis in China. The CCB RE fund will target existing assets of real estate companies and renovate the properties into rental housing. The fund will have a tenure of at least 10 years. CCB and Bank of China Ltd reported a 68% and 20% increase in bad real estate debt in the first half of 2022. At CCB, overdue mortgages caused by the boycotts hit 1.14 billion yuan at the end of July 2022.