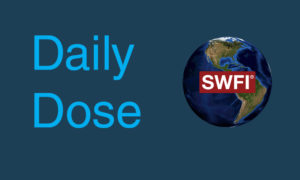 DAILY DOSE: January 19, 2023
Posted on 01/19/2023
---
1. Famous Hollywood movie actor Alec Baldwin, (age 64), was charged with involuntary manslaughter for the Rust shooting of Halyna Hutchins. Halyna Hutchins died from the gunshot wounds. He and Rust movie armorer Hannah Gutierrez-Reed are facing a maximum of 18 months in prison if convicted of involuntary manslaughter. Furthermore, if they're also convicted of a firearm enhancement on that charge, they'll face a mandatory five-year prison sentence. Dave Halls, the Assistant Director of the Rust movie, has pleaded guilty to the charge of negligent use of a deadly weapon.
In a statement, Baldwin's attorney said: :This decision distorts Halyna Hutchins' tragic death and represents a terrible miscarriage of justice. Mr. Baldwin had no reason to believe there was a live bullet in the gun — or anywhere on the movie set."
2. DEBT CEILING: The Department of U.S. Treasury's general account has fallen to around US$ 398.974 billion from a high of around US$ 950 billion back in May 2022. The Treasury Department said in a letter to congressional leaders it has started taking "extraordinary measures" as the government has run up against its legal borrowing capacity of US$ 31.381 trillion. The debt ceiling has been increased roughly 80 times since the 1960s.
3. On January 18, 2022, New Zealand Prime Minister Jacinda Ardern, who is part of the Labour party, announced she is resigning. She stunned party officials that she no longer has "enough in the tank" to do the job justice. Ardern revealed that she would step down February 7, 2022 and will not contest this year's election.
4. LIV Golf got a T.V. deal to appear on the CW Network and its app beginning next month. LIV Golf is owned by Saudi Arabia's Public Investment Fund (PIF).