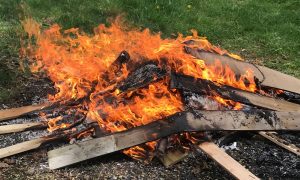 Norfolk Southern Stock Falls Amid Toxic Chemical Spill in Ohio
Posted on 02/14/2023
---
The National Transportation Safety Board (NTSB) investigated the impacted rail cars regarding the devastating railroad accident in East Palestine, Ohio, and its impact on residents living there. The Railroad Division of NTSB has the responsibility for railroad accident investigations involving passenger railroads, freight railroads, and commuter rail transit systems. A train of more than 100 cars derailed in East Palestine, Ohio – an industrial town of 4,800 people situated between Cleveland and Pittsburgh. Twenty of the freight cars on the train were carrying hazardous materials, ten of which were detailed. Five contained pressurized Mono vinyl chloride (H2C=CHCl), a highly-flammable carcinogenic gas. Vinyl chloride is an organochlorine compound that is a colorless, flammable gas that readily forms a liquid under increased pressure or at reduced temperatures. The chemical is mobile in water and has a short half-life in the atmosphere. Long term overexposure to vinyl chloride in humans and laboratory animals has been known to cause angiosarcoma of the liver. Depending on conditions, when Vinyl Chloride is exposed to high temperatures, heat, or ignition, hydrogen chloride gas, which is highly irritating to the nose and throat, as well as trace levels of phosgene gas, may be produced. Mono vinyl chloride is used to produce the polyvinyl chloride (PVC). The U.S. EPA lists vinyl chloride as a Class A "known human carcinogen". According to Norfolk Southern Corporation, the derailment also released butyl acrylate and benzene, both of which are also combustible and toxic to humans. Other toxic chemicals that were being transported and may have been released into the environment include ethylhexyl acrylate and ethylene glycol monobutyl ether.
Fateful Friday
The Norfolk Southern freight with hazardous material caused a fire in East Palestine on Friday, February 3, 2023. The Ohio Emergency Management Agency executed its plan of venting the toxic gas with a controlled burn in order to evade an uncontrolled explosion which presented the risk of catastrophic damage. The hazardous airborne chemicals prompted officials to issue mandatory evacuation and shelter-in-place orders within a one-mile radius of where the train derailed. Potentially 5 million people along the Ohio River are affected. This train was carrying 100,000 gallons of vinyl chloride and other toxic chemicals.
According to Michael Graham, a board member on the NTSB, two videos they had obtained were indicative of mechanical issues attributed to the rail car axles which likely led to the derailment. According to Michael Graham, the wayside defect detector reading resulted in an alarm alerting the crew of a mechanical issue shortly before the derailment in East Palestine. Consequently, that alert forced the train to execute an emergency brake application which may have been the cause of the derailment. Norfolk Southern Corporation is the company responsible for the railway. Locals are reporting dead fish in nearby streams and chemical smells well away from the derailment site. The Ohio Department of Natural Resources estimates the death of 3,500 fish across approximately 7.5 miles of streams. These fish include small suckers, minnows, darters, and sculpin.
Norfolk Southern has offered the town a paltry US$ 25,000 in compensation but is facing multiple lawsuits.
Shareholders
Some of the largest institutional investor shareholders of Norfolk Southern are index fund managers such as The Vanguard Group, Inc., BlackRock Institutional Trust Company, N.A., and State Street Global Advisors (US). JP Morgan Asset Management is also a top shareholder of the railway company. The stock fell down to close at US$ 239.71 on February 13, 2023 from higher price points a week before the accident. At the end of 2022, Norway Government Pension Fund Global owned 0.92% of Norfolk Southern. The wealth fund increased its stake dramatically in the railroad company since 2015.
Ironically, Netflix released a film called White Noise in 2022 about a train derailment of toxic chemicals causing a massive explosion and deadly event in East Palestine, Ohio.