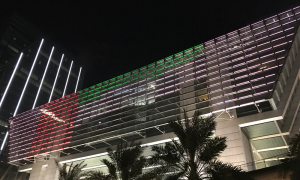 Indonesia Investment Authority and Masdar Participate in IPO of Pertamina Geothermal Energy
Posted on 02/26/2023
---
Abu Dhabi Future Energy Company (Masdar) is jointly owned by Abu Dhabi National Oil Company (ADNOC), Mubadala Investment Company (Mubadala), and Abu Dhabi National Energy Company (TAQA). Masdar is targeting a renewable energy portfolio capacity of at least 100 gigawatts (GW) by 2030 and an annual green hydrogen production capacity of up to 1 million tonnes by the same year.
Masdar is entering the geothermal energy sector. They are doing this through a strategic investment in PT Pertamina Geothermal Energy Tbk. (PGE), one of the world's largest geothermal players. PGE has been operating geothermal facilities in Indonesia for the last 40 years. PGE currently manages 13 working geothermal areas with a total installed capacity of 1,877 MW.
IPO
In late February, PGE had its 9.05625 trillion rupiah (US$ 595 million) initial public offering (IPO). The stock is now on the main board of The Indonesia Stock Exchange (IDX) with the stock code PGEO. The Indonesia Investment Authority (INA) and Masdar participated in the IPO of PGE. Most of PGE stock remains held by oil giant PT Pertamina Power Indonesia (at 69.01%), as only 25% went publicly-listed. The other 5.99% of PGE stock is held by PT Pertamina Pedeve Indonesia.
Country Goals
Indonesia has a goal of increasing its installed geothermal capacity from 2.8 gigawatts (GW) in 2022 to 6.2 GW by 2030. The Indonesian government is targeting net-zero emissions by 2060 and having renewables provide 23 percent of the energy mix by 2023.
The PGE investment is the latest in Masdar's ongoing effort to expand and increase its strategic partnerships in the Asia-Pacific region. Masdar is already developing the region's largest floating solar facility – the 145-MW Cirata Floating Solar PV Plant in Indonesia – and in 2022 signed an agreement with Tuas Power, EDF Renewables, and PT Indonesia Power to explore development of up to 1.2 GW solar capacity in Indonesia for export to Singapore.
Masdar recently announced a new shareholding structure and additional focus on green hydrogen.