Guyana Natural Resource Fund Exceeds $1 Billion in Assets
Posted on 03/01/2023
---
Guyana Natural Resource Fund reached US$ 1,412,722,502 at the end of January 2023. At the end of 2021, the sovereign wealth fund had US$ 607,650,000. The assets are all held in cash and cash equivalents. The manager of the sovereign wealth fund is the Bank of Guyana.
Guyana Natural Resource Fund – Assets Under Management in USD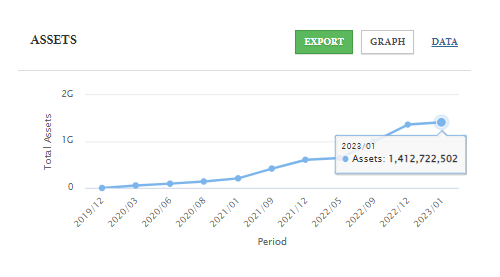 Source: SWFI.com
India
India is looking to sign a Memorandum of Understanding (MoU) with the Guyana government to boost cooperation in the Guyana petroleum sector. Guyana Vice President Bharrat Jagdeo desires the country take back 20% ownership of the mega Stabroek Block that has been responsible for a series of giant discoveries from a consortium led by Exxon Mobil Corporation. Guyana's Stabroek Block is 6.6 million acres. ExxonMobil affiliate Esso Exploration and Production Guyana Limited is the operator and holds 45% interest in the oil block. Hess Guyana Exploration Ltd. holds 30% interest and CNOOC Petroleum Guyana Limited holds 25% interest.