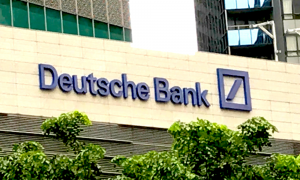 Should Sovereign Wealth Funds and Pensions Be Concerned About Deutsche Bank?
Posted on 03/24/2023
---
Worries about contagion are again rearing up for European banks. The spillover risk is causing some level of panic among shareholders of European banks after the government manufactured sales of Credit Suisse Holding AG to UBS Group AG. Shares of Deutsche Bank AG dropped in price on March 24, 2023. This is following a spike in credit default swaps on the night of March 23, 2023. Shares of Deutsche Bank fell more than a fifth of their value so far for the month of March. Credit default swaps are a form of insurance for a company's bondholders against its default. The bank's CET1 ratio, which is a measure of bank solvency, came in at 13.4% at the end of 2022.
Deutsche Bank has had lots of serious issues for quite some time. The German mega bank has gone through various restructurings and changes of executive leadership in attempts to get it back on stable ground. Deutsche Bank's additional tier-one (AT1) bonds sold off sharply. In February 2020, Deutsche Bank placed undated Additional Tier 1 securities with a principal amount of US$ 1.25 billion. The securities bear a fixed coupon of 6%, payable annually, until April 30, 2026. In November 2014, Deutsche Bank issued undated Additional Tier 1 Notes with a principal amount of US$ 1.5 billion. The notes bear a fixed coupon of 7.5%, payable annually, until April 30, 2025.
Deutsche Bank Shareholders
The Qatar royal family has the largest equity exposure to Deutsche Bank. As of January 25, 2023, Paramount Service Holding Ltd. S.ÀR.L. owned 4.54% of Deutsche Bank, while Supreme Universal Holdings Ltd., Cayman Islands held 3.05% – a 7.59% exposure. BlackRock Inc., is the next largest shareholder of Deutsche Bank at around 5.23% according to the latest available information.
The Qatar Investment Authority (QIA) was a top shareholder of Credit Suisse.