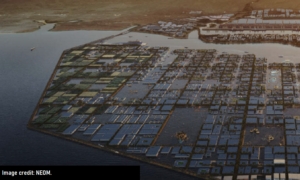 With a Total Investment Value of $8.4 Billion, NEOM Green Hydrogen Company Completes Massive Financial Close
Posted on 05/23/2023
---
NEOM Green Hydrogen Company (NGHC) is an equal joint venture by ACWA Power, Air Products, and NEOM. NEOM Green Hydrogen Company announced that following signing financial documents with 23 local, regional, and international banks, and investment firms, it has now achieved financial close on the world's largest green hydrogen production facility at a total investment value of US$ 8.4 billion. The plant is currently being built at Oxagon, in Saudi Arabia's region of NEOM. NGHC has also concluded the engineering, procurement, and construction (EPC) agreement with Air Products as the nominated contractor and system integrator for the entire facility.
The project at a total value of US$ 8.4 billion is being financed with US$ 6.1 billion non-recourse financing from 23 local, regional and international banks and financial institutions. NEOM Green Hydrogen Company also secured an exclusive 30-year off-take agreement with Air Products for all the green ammonia produced at the facility, which will unlock the economic potential of renewable energy across the entire value chain.
NGHC announced that the non-recourse financing structured for the project has been certified by S&P Global (as the second party opinion provider) as adhering to green loan principles and is one of the largest project financings put in place under the green loan framework. Air Products has already awarded major contracts to various technology and construction partners.
An equal joint venture between ACWA Power, Air Products and NEOM, NGHC's mega-plant will integrate up to 4GW of solar and wind energy to produce up to 600 tonnes per day of carbon-free hydrogen by the end of 2026, in the form of green-ammonia as a cost-effective solution for the transportation and industrial sectors globally.
The total financing consists of US$ 5.852 billion senior debt and US$ 475 million of mezzanine debt facilities, both arranged on a non-recourse project finance basis, as follows: US$ 1.5 billion from National Development Fund (NDF) on behalf of National Infrastructure Fund (NIF). US$ 1.25 billion is coming in the form of Saudi riyal-denominated financing from Saudi Industrial Development Fund (SIDF). The balance is from a consortium of financiers, structured as a combination of long term uncovered tranches and a Euler Hermes covered tranche. The financiers include First Abu Dhabi Bank, HSBC, Standard Chartered Bank, Mitsubishi UFJ Financial Group, BNP Paribas, Abu Dhabi Commercial Bank, Natixis, Saudi British Bank, Sumitomo Mitsui Banking Corporation, Saudi National Bank, KfW, Riyad Bank, Norinchukin Bank, Mizuho Bank, Banque Saudi Fransi, Alinma Bank, APICORP, JP Morgan, DZ Bank, Korea Development Bank, and Credit Agricole.
Aqaba Wind Farm
The project will consist of 284 Envision EN-171/6.5 Wind Turbine Generators (WTGs), which have a hub height of 100 meters and a rotor diameter of 171 meters, arranged to ensure the most efficient capture of the prevailing wind.
They are already well underway building the world's largest facility to produce green hydrogen at scale with production scheduled to begin by the end of 2026.
NEOM is located in the Tabuk Administrative Region of Saudi Arabia. The Tabuk region is divided into six Governates.
Keywords: Public Investment Fund.